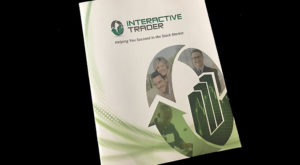 About six weeks ago, my husband and I attended a National Achievers Congress day featuring Tony Robbins. Now all in all that day was great, but not exactly what I was expecting. I knew Robert Herjavec would be there and though I didn't know him, Gary Vaynerchuk, via hologram, was there and let me tell you, Gary Vee was amazing. But in between the inspiring speakers were salesmen. They sold a real estate program, a millionaire mind intensive program, a options/stock trading program and a publish a book and grow rich program. The millionaire mind guy completely annoyed me. The audience had to keep saying "I have a millionaire mind" or something like that and the guy kept asking us to repeat him. He'd say "you want to make …." and the audience would say, "Money." He'd say, "What?" And the audience would yell again, louder, "Money!" And he'd say, "Thank you." Ugh. It just felt condescending to me. Anyway, each class was $997 for a weekend seminar with a money back guarantee.
The real estate seminar and the book writing seminar didn't sit well with me, but years ago, I had stocks before the tech bubble and I had no idea what to do with them so I cashed them out. But I also understood what the options trading guy was talking about and my husband looked at me and said "you can totally do that!" So I signed up.
At the end of that long National Achievers Congress day, Gary Vaynerchuk and Tony Robbins were amazing.
I left super-charged.
About three weeks after I'd signed up for the stock/options trading class, I started getting emails. The company is called Interactive Trader and I just finished my two and a half day weekend class yesterday, so this all fresh.
First, I will say that I was really looking forward to this and I did, overall, enjoy myself and learn a lot. I had a lot of high hopes for this.
The first evening was run down and explanation. There was a lot of "I will be teaching you this tomorrow" and "You will learn about this on Saturday." The instructor, who I will call Mack, was very personable and a very good instructor. He seemed pretty forthcoming with his personal story and even though the company is based out of Orem, Utah (the home of every multi-level marketing company in the world, it seems) I tried to listen with an open mind. Mack mentioned graduating from BYU, he used to be a police detective and he seemed like an all-around nice guy. It is assumed that most people who graduated from BYU are Mormon. I know that, because I graduated from BYU, too. Mack did not talk about his religion, he may or may not be Mormon. I'm not Mormon anymore, and that didn't affect the weekend, but it did kick off my intuition. I used to work for a multi-level marketing company based out of Orem, Utah and I started to recognize sales tactics.
Mack came up to a bunch of us that first evening of the class, we had name tags on so he shook my hand and said, "Welcome, Jennifer." It was nice. Mack started the training and then introduced the team working with him and each of them gave a little speech about their own life and how they ended up taking this same class however many years ago. I will say their names were Jason, Francis and Mary.
These may not be their real names.
Mack talked and did his thing and at the end of the evening we had to fill out these forms and "dig deep" for our why. Why were we there? Why were we interested in this? What was our motivation for learning about the stock and options trading market? What could we use the money for? These forms were turned into the other folks working with Mack and we were going to have "one-on-ones" the next day so that, no matter what our personal financial situation, they would know enough to help us get started.
I left and went home pretty excited about the next day.
One interesting thing happened Friday morning right before the class started. Mack went down some of the rows of tables and shook people's hands and said hi to them by name. On my table, he shook everyone's hand and using their name when speaking to them, expect me. He just shook my hand and said "Glad to see you back," and walked on to others and welcomed them by name. I noticed it, even if no one else did, but at that point in the seminar, I tried not to think too much of it.
That day Mack dug right in and started teaching us about Bull Call trades and Bull Put trades, in a very general sense and not using live market data. In fact, everything they did was prefaced with "this is an example and not an actual trade and we are not giving you advice." Through all this, Mack was telling stories from his personal life, but at some point that morning he mentioned something about their real estate seminar (from the National Achiever's Congress) and how many of the people in the room probably attended that, too. That buzzed around in my brain and stung.
Then Mack brought our attention to a new guy in the room, in the front row, with a laptop, who I noticed right away and thought was odd. Mack said he was a new "elite student" who signed up last week and was back to learn more. Here was a great sales tactic: bring in someone who paid for the training and let everyone see how happy they are. Mack knows them by name, knows their story, talks to them in depth at the break, they are part of the club. If you pay some unknown amount of money, you could be part of the "elite" club, too.
Mack went on and talked about how Tony Robbins endorsed their company and how they gave a full warranty on their education if you bought it that weekend. Then he said that Kevin O'Leary of Shark Tank also recently partnered with them. Mack said he was going to be teaching Kevin O'Leary's people in a few weeks.
But it was the real estate thing that got me. Were they the same company? Were they really just selling people on education? Were we there to learn actual skills I could use in the market next week? Or was this a weekend being teased to then pay a ton of money to actually (maybe) learn?
I got my answer before the lunch break.
I was called out by Francis for my one-on-one. Now Francis, I'm sure, is a very nice man. He is retired, in his 70's, and his wife was Mary, one of the other team members there. Francis looked at my "dig deep" form. He asked me a couple questions. "So you work in education?" Yes, I told him what I did. He said, "You have grown children." Yup. It's on the form. He pretty much skipped all the way to the bottom and we talked briefly about whether my credit score was good or fair and then he said, "Do you have any assets you could use to pay for the education?" I answered, "No." First, I didn't know what the education cost and one thing I knew was that I didn't want to go into debt for anything. I have student loan debt. That is enough for me.
Now Francis could see how much money I had in the bank, because on the form I checked the appropriate boxes. Then he proceeded to say, "Well, you are not ready. You can't retire." (I'd joked on the form that I wanted to retire now ….
I mean, who doesn't?). Francis handed me a piece of paper with some steps to get ready on it. Steps like review my notes from the class, learn more, trade in a virtual account with "paper" money, focus on why I want to do this, and save money to pay for more education. He went on to say, "You need to save more money and when you have about $3000 in the bank you can call us at this number here and buy some more education. You can pay for the webinars and get some more knowledge." And that was it. I took the piece of paper and walked away. My 10 minute one-on-one lasted about three minutes and I was walking back.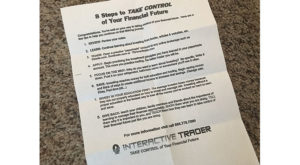 Now I knew that I'd seen people go out for one-on-ones all morning. None of them had come back with a piece of paper and some of them had been out in the hallway for over a half hour. There weren't that many people in the room. It was easy to keep track of all of this. I knew that walking back in with a piece of paper was going to set me apart, especially to Mack. So I folded it up in a tiny square and walked back in and tucked it under my notebook.
(My actual piece of paper with the fold marks is in the photo) My intuition was just telling me to hide that piece of paper, but I think even though I did that, the instructor of the class, Mack, saw me walk back in after just three minutes. I think that was the signal that I was not going to able to buy into the training, which I still did not know the price of.
But that moment changed the entire class.
I will tell you that for me, I sat in the class for the next little bit, staring at the screen wondering about the training, wondering how much it was, and wondering if it was going to be anything I could actually afford, to prove Francis wrong, or if it was some crazy high number. I questioned why I was there. I wondered if I could actually learn this stuff. I felt snubbed by someone who didn't know me. And then Mack started talking about the training in general enough terms that I learned just about how much training cost. Mack said, "There are about five companies out there that teach this stuff and it's expensive, like $60,000. They don't teach this in college. That's the reason why I love this company so much and why I partnered with them, and I think you'll really like how they've brought down the price for training. $20,000 is a great price."
So there it was, the full education was $20,000. We broke for lunch and I spent some time walking around to find food and thinking.
I finally called my husband and told him what was going on. I knew he wouldn't be thrilled about it and I knew he would feel badly that I was there and attending the class and continuing, but knowing how expensive the education was.
He and I have a pact that we won't take on anymore debt.
When we came back from lunch, Mack continued with the training, but one thing he did say was that he didn't care if we had no money or lots of money, he would treat us all the same. Well, I already knew that wasn't the case, but I stayed. I tried to put it out of my mind that the training was beyond my means and just try to learn as much of the options trading concepts as I could.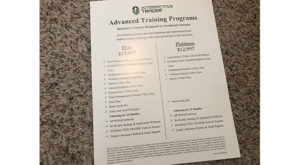 Later that afternoon, we got to the full court press for the education. There were two types, the highest and most popular level of education, the "elite" training which cost $19,997 and included 9 classes, twice weekly webinars, full use of two online trading web sites for two years, one-on-one support (maybe even Mack), a padfolio (I would learn the next day what this was) and a paid visit to corporate headquarters in Orem, Utah. I lived in Orem for about five years, that part was less appealing to me, but hey. This elite training also came with a money back guarantee that they would help you until you earned roughly $20,000 in the market and could pay back your education.
There was also another level of training, the "platinum" level which was $12,997 and included five classes, you were not going to Utah, and you got access to the two online trading web sites for one year, instead of two. There was no guarantee with this training.
Finally, if you couldn't afford it, you could put some basic information in on a web site called Credit Nav and it would do a soft pull of your credit and find out if you qualified to finance your training through a company called Seed Capital.
The day ended with some doom and gloom, but very enlightening discussion on the national debt crisis, the world debt crisis, the Great Depression, the value of the dollar, the upcoming elections in France and the market potential for a crash or at the very least a very downward trend. Could we make money when the market is going down? Yup. Boom. End of the day.
At home, I spent about two hours on my computer researching anything I could find on the company, I Googled Kevin O'Leary and Interactive Trader, I looked for reviews, even positive ones, I looked up other stock and options trading programs, desperate to find programs that cost $60,000. I couldn't find a thing. Though I did find very comprehensive training programs for a lot less money and some reviews of those programs. It was like Interactive Trader was a ghost on the internet. I'll be honest, that's part of the reason I'm writing this and posting it, I want to see what happens.
The next day, I got there just a few minutes before class started. It is Saturday now, the last day. Mack again went down the line of my table saying "hi" to everyone at my table by name and when he got to me he just shook my hand and said, "Good to see you." I was paying more attention today. Again, I got the impression that at least for him, my name was not worth remembering.
The day started by going over lots of new concepts, reviewing some old ones. But a new aspect of today's training was that more people who signed up to be "elite" students in previous sessions were in the room. They were in the back this time and looking so happy. Mack referred to them a lot and starting saying new things like "If you become one of my new elite students I'll show you this trade, but we can't do it today, we have to keep moving." Hmmm. So Saturday was an exercise in frustration. If I had $20,000 I could know more. I could be in the cool kids club and sit in the back, but today I was only being teased with what I couldn't know, because I couldn't pay for it.
Right at the lunch break, I saw my first "padfolio." The woman behind me bought it and of course, Mack came right up to her and shook her hand, said her name and said he was excited to be working with her. She was going to be very happy.
After the lunch break we learned a little about futures, we learned the history of the US dollar and got a lesson in inflation and the gold standard. Mack talked more about the upcoming potential market crash and how he hoped it wouldn't happen, but it might. We caught glimpses into the "paper trade" account and how much money could made in a day, week, month. And we went over weekly Japanese candlesticks.
During the entire weekend, Mack was writing out concepts on a large flip chart of paper pages. At the end of the evening, someone (probably Jason) would rip out the pages, put some more notes on them and put them up on the wall for us to photograph with our cell phones.
At the last break of the last day, I realized I had not taken photos. So I went around the room and did that. But Mack had written some things in today's pages that I also wanted to photograph, so I waited at the front of the room for a turn to talk to him and ask if I could take photos of his notes after class. He said, "You can flip through them now if you want." I asked, "Really, that's OK?"
And he said, "Knock yourself out, hon."
I'll repeat that "Knock yourself out, hon." If that wasn't the most disrespectful, skeezy salesman thing to say, I don't know what was.
In that very moment my eyes squinted at him and I walked away to take my picture. Calling a woman you don't know "hon" is a classic salesmen technique to get a woman who probably won't buy from you to think that you like her and think she's cute enough or pretty enough to call "hon" so maybe, just maybe, she'll decide she will buy from you, so you, the salesman, can get your commission.
I took my photo and sat down, knowing that in that sentence "Knock yourself out, hon" Mack has absolutely discounted me as a buyer and probably someone who would never get any further education and if I did, I would certainly fail in the options trading market.
During the last 45 minutes of the entire weekend seminar, the quiet, sweet, Mary (Francis's wife) would walk through the tables and tap some of the people on the shoulder. She would hand them their "padfolio" a leather-bound, briefcase-type binder with their home study kit in it. Each padfolio came with a lanyard, too, and every few minutes you'd see the lanyard go over someone's head with their badge on it. They were now the cool kids. They were the "elite" members of the club. This is also a classic sales tactic. Do something visible to set the people who paid for the kit apart from everyone else, so the masses left over feel left out and then want to leverage everything and maybe even go into debt, a lot of it, to pay for it and get their lanyard. So they, too, could be cool.
And then it was over. The folks with lanyards were invited to stay for a special session that was going to teach them to potentially make their education payment back in less than 20 minutes. We were also supposed to get the PowerPoint slides Mack used throughout the weekend after the training, but no one gave me any and I still have no email from the company offering me any.
I learned when I got home the "unadvertised" training that Francis told me I could buy for $3000 was a set of a few classes and access to both their online trading websites for a year. You also got access to the twice weekly webinars.
I will end this by saying, I learned a lot. I learned I will never attend a broad training seminar, like the Tony Robbins one ever again, because what looks too good to be true, is too good to be true.
I learned that while a Tony Robbins event is still on my bucket list, I need to do more research because if it's mostly a sales presentation, I'm not going. I learned that I understand the basic concepts of options trading and I learned enough from the class to know that I will pay for more training. I learned that there is no amount of money that truly buys anyone into the cool kids club. Mack, for all his salesman tactics, seemed like a genuine person so I guess he was a genuine salesmen. He also seems happy and well-adjusted and I have nothing terrible to say about him. But just a note, if you're a salesmen, don't call a woman "hon" or "Honey" or "dear" or anything. That woman has a fucking name! Use it!
Next, as for Jason and Mary, Jason didn't say one word to me the entire weekend. He smiled at me a couple of times, but I don't know a thing about him. Mary shook my hand the first day and said "Welcome." I had no interaction with her again. Francis I feel placed bit of judgement upon me and even though I had $3000 for the lesser option training (remember I checked the box on my "dig deep" form that told him how much money I had in the bank), he didn't even offer me that. Why? I have no idea.
Finally, if you look up Interactive Trader online, you will find their web site. On Twitter they are @intactivetrader, and even that was harder to find that it should have been. Their Facebook page has one 5-star review and they had 890 fans when I looked. I have a Facebook page that has 3020 fans, so quite honestly, that was unimpressive. What I can tell you is that my suspicion is that anyone who posts anything about Interactive Trader has their post scrubbed somehow. To see what I mean, go right now and search for Interactive Trader workshop review or something like that and see the links. Can you find anything about them? I couldn't. Most of the links that came up, led me to other companies, not the one I wanted to know about. I don't know how, but I think the company is actively scrubbing anything they don't like that they see posted.
If you get this far, save this post. Save the text. Share it! Put it out there. And then come back and see if this is still here. Because I give stock market odds (50/50) that it will be forced down somehow.
Here are some links I was able to research more after I poured over my seminar training paperwork and read the very fine print.
I signed up for this training through a company called Success Resources America (which is just an event promotion company), which is actually owned by New Peaks, LLC, which is an exclusive licensee of course content and material owned by Harv Eker. As it turns out, Harv Eker is the mastermind behind that entire "you have a millionaire mind" crap that annoyed me on one of the sessions at the National Achiever's Congress.
Here are (finally) some reviews of Success Resources America.
And here are some reviews of Harv Eker's Millionaire Mind classes. Ironically, though I can find this information, I still cannot even find a reference to Interactive Trader on New Peaks' web site, Success Resources America's web site, or anywhere, but their own web site.
UPDATE: I posted this in April 2017 and I recently posted a follow-up of answers to the most common questions I get asked about Interactive Trader and my experience. Please keep emailing! I've heard from so many people and I write everyone back.
Save
Save
Save
Save
Save
Bookmark.
Trader - Made $41 Million Profit in 3 Years Option Trading (Karen the Supertrader)